Checkmating the dragon in the Indo-Pacific & the Himalayas – Part 2 – The Times of India Blog
We use cookies and other tracking technologies to provide services in line with the preferences you reveal while browsing the Website to show personalize content and targeted ads, analyze site traffic, and understand where our audience is coming from in order to improve your browsing experience on our Website. By continuing to browse this Website, you consent to the use of these cookies. If you wish to object such processing, please read the instructions described in our Cookie Policy / Privacy Policy.
Interested in blogging for timesofindia.com? We will be happy to have you on board as a blogger, if you have the knack for writing. Just drop in a mail at [email protected] with a brief bio and we will get in touch with you.
Dr. Maj Gen (Retd) Anil Kumar Lal is a Defence Analyst who has authored many path-breaking concepts on Nuclear and Space Warfare strategies. He feels that the future Military Forces would be dictated by a new concept of Strategic detterence which would be a combined effect of Nuclear and Space detterence. He is a third generation Indian Army Officer, who has participated in the many India-Pakistan battles including the Kargil conflict, 1999. A captured 'Defence Post' has been named after him on the LOC. He has been Commanding General in the Siachen/Ladakh sector and had been Director Nuclear warfare in the Army Headquarters during the Pokhran-II test. He has held Fellowship at the IDSA and the Chair of Excellence twice at the USI of India. He has authored six books on National Security issues including a book on 'Space warfare and Military Strategy.' He had raised the Integrated Space Cell for India and pioneered the path-breaking document called the "Indian Space Defence Vision". The author has also written the book:"Transformation of the Armed Forces: 2025", which has already covered the methodology for a transformation with Indian characteristics. His last book: "Siachen Conflict Zone: Looking beyond the Himalayas" is covering contemporary issues including the present India-China standoff scenario. LESS … MORE
The Continental Landmass
The Eastern-Central-Western Himalayas Join the Karakoram (Tibet) and Hindukush (Afghanistan): Source-own sketching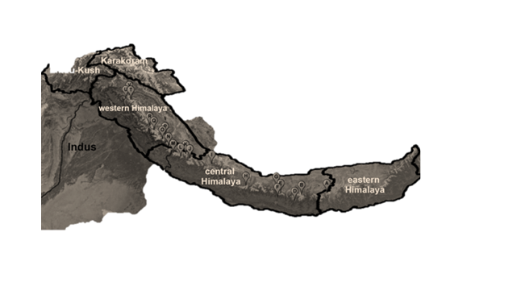 The Valley and Mountains like the Himalayas.
Thus the other domain in this region, which also needs deliberation is the continental landmass along which China is attempting to open new land routes and convert them into 'Logistic Highways' and thus nullify the 'Malacca Dilemma' or any other kind of naval blockade.
Out of the many land routes being developed by China, the Himalayan 'China-Pakistan-Economic-Corridor'(CPEC) happens to be its 'Crown Jewel' project and that China till date has already spent 56 billion dollars (Almost 28 billion dollars of the proposed investment has been allocated for 'early harvest' projects — 18 billion dollars for power projects and 10 billion dollars for rail, road and port infrastructure — and the rest of the investment is expected to materialise by 2030 and beyond) in its construction/ up gradation. Thus the importance of the Himalayas and its two other extensions of the Karakoram in Tibet and the Hindu Kush in Afghanistan become geo-strategically important. Jaklut, in the 'Pakistan Occupied Kashmir' (POK) is where three inordinate mountain ranges of world make bond-Himalayas, Karakoram and Hindu Kush. This becomes relevant as the CPEC is passing through the 'POK.'In addition the landmass comprising the unstable Afghanistan and Pakistan(Af-Pak) zone has already been called as the epicentre of world terrorism. The QUAD has already made a statement to address this area if required.


U.S. Military Deployments Cater more for Sea Domination
Both the seas and the continental portions of small islands are supported by four component commands: U.S. Pacific Fleet, U.S. Pacific Air Forces, U.S. Army Pacific and U.S. Marine Forces, Pacific. The U.S. Pacific Fleet consists of approximately 200 ships (to include five aircraft carrier strike groups), nearly 1,100 aircraft. Marine Corps Forces, Pacific includes two Marine Expeditionary Forces and about 86,000 personnel and 640 aircraft assigned. The broad vision is: "USINDOPACOM ensures a Free and Open Indo-Pacific alongside a constellation of like-minded Allies and Partners, united by mutual security, interests, and values in order to deter adversary aggression, protect the Homeland, and be ready to fight and win in armed conflict". Thus the mission of USINDOPACOM is "To implement a combat credible deterrence strategy capable of denying adversaries sustained air and sea dominance". The US Carrier Strike Group (CSG) is currently deployed in the 'IOR'. It is to meet these objectives that Washington has established military bases at Diego Garcia, at Djibouti, in the Horn of Africa, and in Ethiopia. Each of these bases can cater for five thousand personnel. The Maldives-US defence agreement is crucial for the Indo-Pacific region because peace and security in the Indo-Pacific and 'IOR' is tied to the best interests of both countries. As can be seen that the total force deployment is to cater for sea operations and may be the marines for capture of small islands. But this "USINDOPACOM" force is not tailored to assist in major land operations like towards the continent of Australia or towards the Indian sub-continent or even for sending reinforcements towards the High Altitude Himalayas. Obviously the present deployments cater for no such land contingencies and especially when the scenario is clear that in case the oceans get choked the Chinese will then operate entirely through the land corridors. So therefore, the 'AUKUS 'or the American fleets can keep on marking time in the seas and that is about all. It does not impact on China's trade. Such a huge force of "USINDOPACOM" will get wasted. What is therefore required is to rationalise the marine elements as land or Mountain Infantries. Such an idea is feasible today, post exit Afghanistan. In fact dedicated Fighter Aircraft and Missile support should be included in the 'USINDOPACOM' operational orders. The dedicated support of B2 Spirit and B2 Stealth Bombers ex Diego Garcia should also be guaranteed to face continental wars with China as explained below.
Himalayas and the 'CPEC': China's Alternative Option
China has already overrun all the countries in its neighbourhood less the Indian sub-continent. The Indian defences in the Himalayas have proved insurmountable. The Chinese have succeeded only in surreptiously occupying unheld areas where both sides used to only patrol and withdraw. The Chinese land route to the Central Asian market goes through the Xinjiang-Gwadar /Tibet area. Thus the creation of the Chinese-Pakistan –Economic- corridor (CPEC) as part of the larger 'RBI' drive is already fitting into the scheme of opening trade routes all across the world. The operationalization of the 'CPEC' defacto neutralises the Malacca dilemma. The 'CPEC' is therefore considered as the "Jewel Project" of the 'BRI' and a model for things to come. With Afghanistan now coming into the Chinese grip and the fructification of the game changing strategic treaty between Iran and China for 25 years, consolidates this particular axis up to Central Asia. A blockade by the AUKUS in the Malacca strait or the South China Sea can now be easily bypassed through the well secured 'CPEC'. In addition, both Tibet and the Afghanistan-Pakistan (AF-Pak) geographic zone are rich in minerals and are likely to become the manufacturing hub, where China has already declared placement of thousands of Chinese corporates/conglomerates in this region around the 'CPEC'.
Exports through them will accelerate China's economic rise much beyond the reach of USA and India together. The assessment and importance of this 'Xinjiang-Tibet-Pak-Afg-Iran'(X-TPAI) geographic zone cannot be under estimated. This area is contained on three main mountain ranges i.e. Himalayas, Karakoram and the Hindu Kush in Afghanistan. The Western Theatre Command (WTC) has been accordingly modified and enhanced through reforms to cater for an offensive towards India and reach towards the Arabian Sea. Gwadar has also thus been constructed by China to handle cargo and Oil towards the Chinese mainland. Thus the analogy, that if the Sea route is closed to teach China a lesson then this land route becomes the alternative. Thus ipso facto this Himalayan segment has also to be strengthened to hold ground and not be pushed back by the PLA. India is confidant of holding back the PLA advance with its integral strength. But definitely there is a requirement of catering for an emergency where things do not happen as per plan. Thus the importance of this corridor has to be balanced with the QUAD which is a strategic grouping to pre-empt and reduce Chinese influences and to secure a rules-based global order, liberal trading system and freedom of navigation. It seeks to contain a 'rising China' and work against its predatory trade and economic policies.
The security of this corridor in PLA'S perception can only be ensured by creating more buffers towards its south. This can only happen if Chinese capture DBO/Ladakh and even the Siachen complex, which is jutting and disrupting the broader China –Pakistan geographic linkage. Similarly, the Chinese would try to apply a simultaneous pincer with the 'Pakistan-Talibani' pushe into Kashmir and oblige Pakistan. This is the most likely and worst option for India, which can fructify any time-not far away. To counter the above, India needs a comprehensive and unconditional support from all quarters, especially Russia, who has been India's reliable strategic partner. Both, India and Russia share a common border with China and thus are complimentary in military strategy. Moreover, India has a vast array of Russian military equipment purchased, since the cold war days. India should also upgrade its submarine warfare technology by acquiring the Nuclear Attack Submarines (SSN) in cooperation with France or Russia. In fact, there is a case for the USA to also reset its sanctions against Russia and Iran and improve relations so as to better isolate China. These factors when implemented will upgrade India's deterrence against China. In turn these redundancies and dynamics indirectly compliment the AUKUS or any other military action in the Indo- Pacific theatre.
Finally, it can be said with great confidence that: "Both the Indo-Pacific Seas and the Himalayan belt need equal domination to make China reel back from the present belligerent and revisionist agenda with Great Power ambition by 2030.Aukus Or Quad Are Not Sufficient Enough as there are Gaps which need to be identified and plugged" Same has already been discussed. Therefore, all US activities in the Indo-Pacific have to be developed to contain China. By choking the seas is only a half job done .Holding the Chinese in the Himalayan region along the CPEC and reducing their influence with evil forces of terrorism in Pakistan and Afghanistan is a victory for global good. This is what America should do, as we all aspire for world peace.
Read: Checkmating the dragon in the Indo-Pacific & the Himalayas – Part 1
{{C_D}}
{{{short}}} {{#more}} {{{long}}} {{/more}}
Views expressed above are the author's own.
Dangerous trend: AAP joins the race to the bottom in calling for local quotas in private jobs
Left, right and wrong: Savarkar, Golwalkar should be read in universities just as their intellectual polar opposites should be
Divide and rue: Kerala Church's "love jihad" obsession widely and negatively impacted state's and nation's body politic
Tale of two High Commands: Gujarat and Punjab show BJP embraces the Indira model but Congress struggles with it
Who knows the asli truth about Kundra or Sood?
Four plus two minus: Quad summit shows India matters in an emerging world order. But the Af-Pak challenge remains
Small minded Great Britain: UK's refusal to recognise Covishield is inexplicable and a terrible signal
Women's turn: Is reservation the only way to a fair deal in India? Economic growth delivers justice, too
Sarkar's reform mode: Our politics doesn't matter, every move to increase prosperity must be welcomed
Quad v AUKUS: Anglos & Alliances – India, Japan don't enjoy the cultural affinity shared by English-speaking Western countries
Interested in blogging for timesofindia.com? We will be happy to have you on board as a blogger, if you have the knack for writing. Just drop in a mail at [email protected] with a brief bio and we will get in touch with you.
Cash Flow
Beyond The Headline
Juggle-Bandhi
City City Bang Bang
Copyright © 2021 Bennett, Coleman & Co. Ltd. All rights reserved. For reprint rights: Times Syndication Service